Hunting for information about your great-grandmother or great grandfather that attended Yankton College?  
Searching for a Miss Pioneer?  
Wondering about college events or student activities?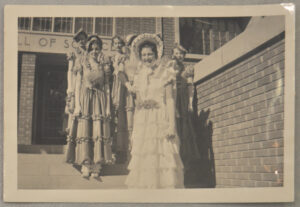 What Is Available
Visitors are welcome to the Yankton College business office which is the official historical repository for housing the historical collections of Joseph Ward and the Ward family, the school, its events, the administration and its students.  With staff assistance, researchers or genealogists may access archived materials and photographs chronicled among the collection of student newspapers, yearbooks, scrapbooks, college catalogs and other research materials.  College artifacts and memorabilia are on display or stored within the Yankton College collection.  
If you are unable to visit the office, the Yankton College staff will assist in research requests.  A reasonable fee may be charged depending on the amount of information and time involved. Or a free-will donation may be offered to cover paper and copy costs. Email your inquiry to: 
[email protected]
or phone toll-free (866) 665-3661.  Please allows several days to complete the research.
Visit the Yankton College business office at 82 Mickelson Drive, Mead Cultural Education Center, third floor, Yankton, SD  57078. The office hours are: Monday through Friday, central time, 8:30 a.m. to 4:00 p.m., except holidays.  Open only by appointment on the weekends.
Privacy
Yankton College maintains the privacy of its alumni, faculty and staff.  Appropriate measures are in place to safeguard the privacy and security of the information kept on file.  Yankton College maintains files of alumni that include:  educational files consisting of enrollment and grade records; and non-educational files that are a collection of news releases, career achievements, correspondence and other anecdotal information.  Personal information will not be given to visitors unless by special permission.  
For more information, contact the Yankton College business office, phone toll-free (866) 665-3661.