The Unanimous Results of a 2012 Yankton College Alumni Survey – "To Keep the Face of Yankton College observable."
Yankton College alumni can be proud of the legacy of Yankton College that continues to offer academic scholarships and support the liberal arts through sponsored activities despite its closing in 1984. The college is embarking on a new venture: the establishment of the Joseph and Sarah Wood Ward Alumni & Educational Center of Yankton College in partnership with the Dakota Territorial Museum at the historic Mead building located at the north end of Yankton.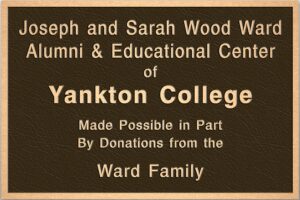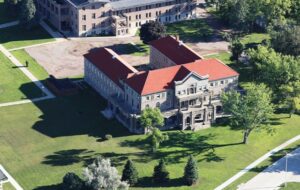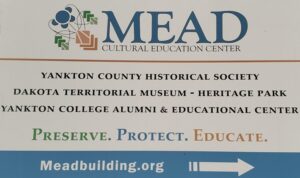 Through the years since Yankton College was founded by Dr. Joseph and Sarah Wood Ward – students and graduates have raised up to praise our alma mater.  Every year we have underscored our belief and certainty that Yankton College is – and was – NOT just another school.  It holds a myriad of meanings for those who attended: a place of aspiration; a place offering performance and educational opportunities; a place where we found ourselves and, in many cases, our life mates; a place which inspired us to fulfill our potential and provide leadership to others; a place of inspiration and dedication. 
Even now, we are not willing to allow the legacy which is Yankton College to perish, as we mortals must.  We have banded together and committed to one another that we will establish a legacy whereby Yankton College will outlive us and our followers.  And that legacy is the Joseph and Sarah Wood Ward Alumni & Educational Center of Yankton College which will be housed on the third floor of the Mead Cultural Education Center in Yankton, South Dakota. 

College Story
To properly tell the Yankton College story, photographs will be displayed on photo panels or murals and much of the college memorabilia will be permanently displayed museum style in display cases at the Joseph and Sarah Wood Ward Alumni & Education Center of Yankton College.  Print Legacy Fundraising Brochure.
Memorabilia Photo Gallery – click image to enlarge
Professional Archivist  Assesses the YC Historical Collection  
Historian and professional archivist, F. Gerald "Jerry" Handfield, Jr. '66 accepted a request to spend five days at the YC office assessing the current conditions of the Yankton College archives and its artifacts. The summons to "help" Yankton College was offered when Jerry, who now resides near San Francisco, CA, returned to his alma mater for the 2016 All-Class Reunion in Yankton, along with his brother, Jim Handfield x'69, from Abbott, Maine. Plans were negotiated and Jerry eagerly returned the next spring "to the College that influenced his life forever" to assist in preserving its records and memories.  While here, Handfield also trained YC staff on necessary archival tips.  Ones that he has used as the appointed archivist for both states of Indiana and Washington during his esteemed career. In his assessment, Handfield wrote: "the YC Collection is in remarkably good condition."  He went on to report that the collection contains all the ingredients to establish an exciting and entertaining educational exhibit.  He concluded with: "When Yankton College closed in 1984, its mission of "building character" and spreading the light and values of a liberal arts education from the "College on the Hill" did not end. The new College ("Without Walls") demands the preservation of the Yankton College Archives for many generations in order that they may see the world-wide ripples created by Joseph Ward."